IND Enabling Services
At Frontage, we simplify the effort and reduce the risk by offering all of the critical IND-enabling services required to bring your lead candidate to Phase 1 in an organization sized to minimize complexity and maximize communication – ALL-in-ONE.
The Right Services
At Frontage, we offer a complete range of services to move from lead candidate selection to first-in-human. By providing the right comprehensive end-to-end services, we can accelerate your IND program. Consolidating your studies with Frontage provides the benefit of consistent quality, enhanced efficiency, and optimal cross functional communications, ALL-in-ONE.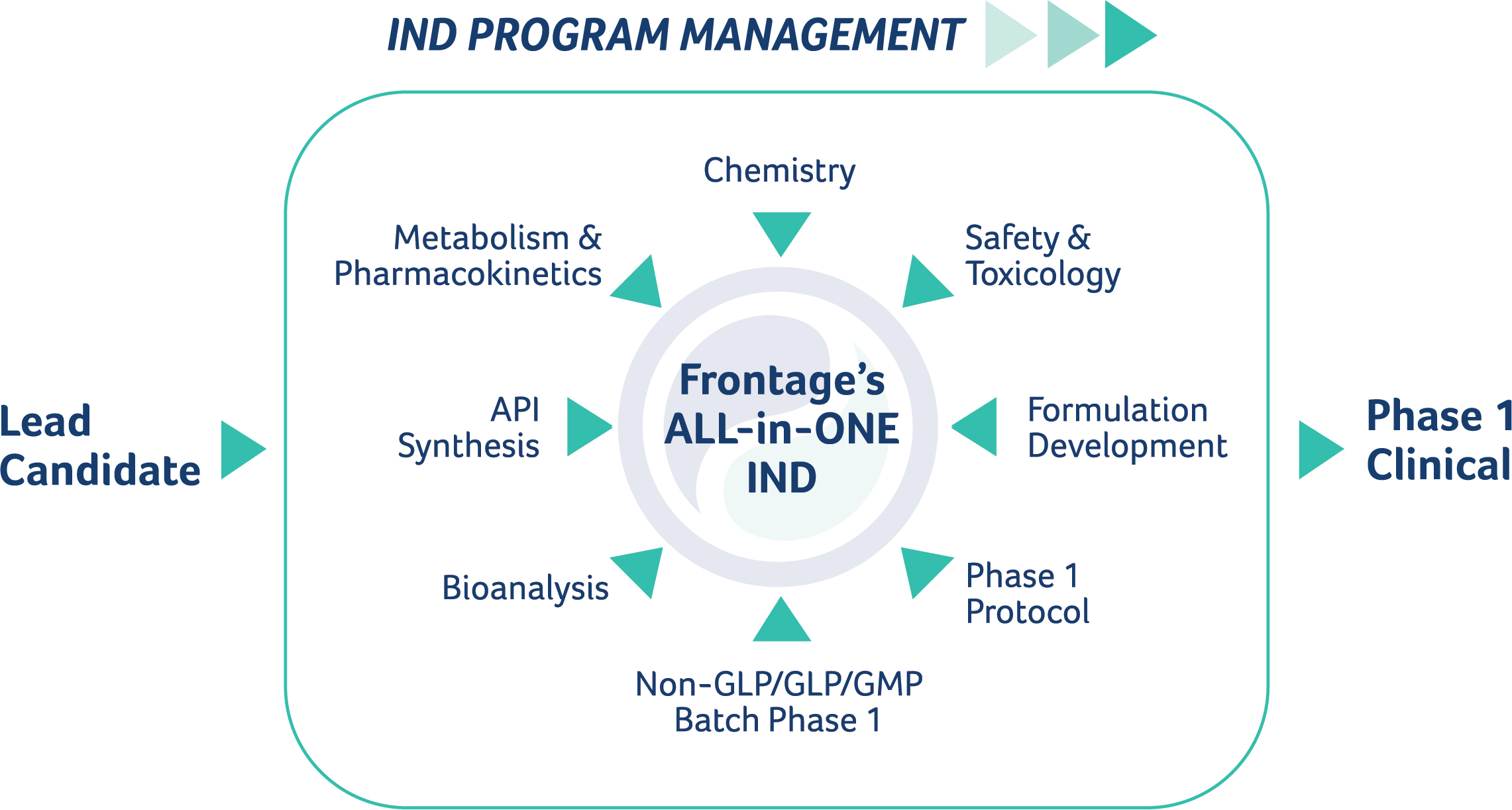 Our range of IND-enabling capabilities includes
API synthesis
Formulation development
Drug Metabolism and Pharmacokinetics,
Safety and Toxicology
Bioanalysis
Chemistry, Manufacturing and Controls (CMC)
non-GLP/GLP/GMP batch production
Phase 1 protocol development
The Right Size
At Frontage, we believe that effective communication underlies the success of everything we do, and as a mid-size CRO, we are
the right size to ensure we are always focused on our customers and their needs. Timely, consistent and clear communication,
both internally and with our customers, is essential to ensuring successful outcomes.
The Right Solutions
We recognize that every client has unique and specific needs. The Frontage team of qualified project managers, study directors and scientists work on a coordinated basis to listen to you and to make sure that your expectations are clearly understood.
Our ALL-in-ONE suite of IND-supporting services, coupled with our right-size organization, ensures nimbleness of response that can take months off a typical IND timeline. That is what having the right services and being the right size is all about.